it's honestly rude how i'm being quarantined without a love interest whom i hate but secretly love. i mean, what even is the point to all of this????
why are we still here? just to suffer???
anyway i'm dealing with most of my problems the way i usually do,,,,, fixing them binge-watching netflix and reading books.
i've literally read 7 books this month im on fire
so i thought why not combine these two and recommend books to y'all that would make your heart full with rainbows and skittles and make your cheeks hurt by smiling so much. you know. like the absolute losers that we all are.
You Deserve Each Other by Sarah Hogle
I DON'T REMEMBER THE LAST TIME I WAS GRINNING SO MUCH WHILE READING A BOOK, Y'ALL
allow me sell you on this book:
perfect couple who are going to be married in 3 months
but they've fallen out of love w/ each other and are bored
whoever pulls out of the wedding first has to pay for all the deposits tho
so they intentionally start trying to make the other person's life hell so the other make the decision first 😌
and then they start liking each other again
this was such an unusual plot. and i loved it so much. it made me feel so happy and in love with everything.
it would be the PERFECT netflix romcom because this book is CHAOTIC. so much chaos and laughter and hope. ALSO, IT'S SO GODDAMN FUNNY. i was laughing out loud every 5 minutes and that's,,,, unusual for me ok.
ALSO THIS QUOTE ⬇
I don't like you again, yet. But I'm going to. And you're going to like me again too."
fuck me, i'm such a sucker for second chance romances
Red, White & Royal Blue by Casey McQuiston
i am once again asking for amnesia so i can read this gem for the first time.
ok but you canNOT convince me that this book wouldn't make the perfect movie.
the slowburn in the beginning, the london aesthetic, the feeling of hope and euphoria in the "history, huh?" scene and the fucking chaos of the ending.
i'm just saying it's about time we get a queer royal romcom :')
i miss this book
10 Blind Dates by Ashley Elston
this is already a 10/10 christmas flick
this book bleeds christmas, y'all. i want to watch it on netflix with hot chocolate in december.
it's got crazy big family + old friends + blind dates + cute romance = me being trash for it
i can totally imagine noah centipede starring in this lmao
From Lukov With Love by Mariana Zapata
ok imagine netflix's spinning out but as a rom-com instead of the anxiety churning blender that it was.
from lukov with love is about two ice skating champs who obviously hate each other teaming up as pair skaters. it's got every trope i love and adore and thirst for. 10/10 would recommend.
as much as i love this book for the hurt comfort, warm and fuzzy vibes, it can also be such a beautiful scenic movie, y'all.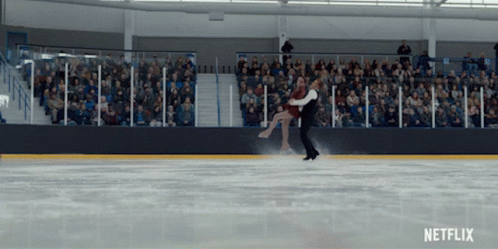 What If It's Us by Becky Albertalli & Adam Silvera
i remember having so much fun when reading this book. what if it's us is literally written like a rom-com. it gives you this,,, rush of happiness and it's such a gift to out generation with all of those pop culture references.
i wish i had this book as a movie to watch during quarantine. emotionally,,,, i'd appreciate that 😗
UPDATE: I just found out the screen rights for this book has already been acquired,,,,,,,
Josh and Hazel's Guide to Not Dating by Christina Lauren
hazel is this quirky teacher and josh is a put together doctor. their paths have kept intertwining since college. if josh is the calm weather, hazel is a storm. the dynamic is to die for.
both of them keep trying to set the other with blind dates but keep ending up together at the end of the day.
TELL ME THIS DOESN'T SOUND LIKE AN OLD-SCHOOL HILARIOUS ROM-COM YOU WOULD ABSOLUTELY LOVE
The Hating Game by Sally Thorne
i have lost count of how many times i've ranted about this book here. y'all know i love sally thorne.
this is a classic hate to love office romance. it's funny and sexy and entertaining as hek.
AND????? it's ALREADY IN THE WORKS TO BECOME A MOVIE. Y'ALL.
robbie amell is cast as josh and I WANT THOUGHTS ON THIS.
at first i couldn't stop seeing him as the player boi teenager from The DUFF but,,,, i kind of see it now??? what do y'all think?
also lucy hale is cast as lucy (lmao lmao) which is absolutely perfect.
these books are 10/10 comfort reads for me b/c i've been craving a good romcom these days especially after reading you deserve each other so RECOMMEND BOOKS WITH SIMILAR VIBES TO ME. PLS.
which of these books would you most want to be a movie? lemme know, bois.
---